Introducing The Seattle Yellow Cab Travel Card
Now it's a lot easier to get from here to there.
The Seattle Yellow Cab Travel Card puts all your Seattle Yellow Cab travel in one place. It's available in a standard charge version or a debit version that can be used for gifts or single rides.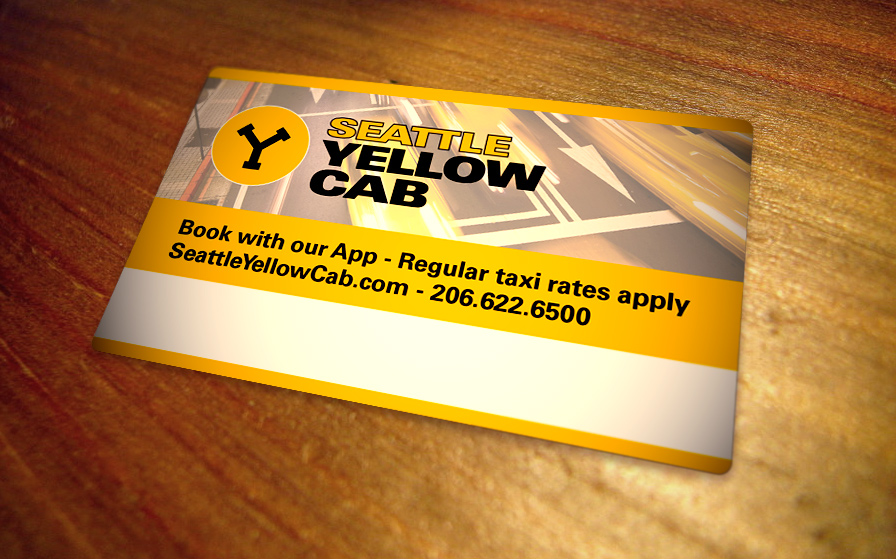 The Seattle Yellow Travel Card lets you limit expenditures by putting a per trip cap on each card and cap the number of trips. You can use it up to the limit of your approval or prepaid amount. In addition, billing codes can be entered in order to charge trips to specific business or personal uses.
The Seattle Yellow Travel Card works when you use our smartphone booking app, our Book Online page or on our new backseat payment terminals when your ride is over.
It's just like checking out at the grocery store.
####
Seattle Yellow Cab operates a fleet of 560 Taxis in the Seattle area and enjoys a contract to provide a hybrid fleet specifically for SeaTac airport with both sedans and 8 to 10 passenger vans. Taxis are available at Taxi Stands on the third floor of the parking garage 24/7/365. The new SYC app uses regular taxis fares without a booking fee, surcharges or surge pricing.